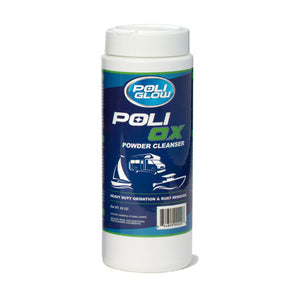 Poli Ox is a one-step marine cleanser and rust remover. Excellent for removing stains from fiberglass hulls and decks. Also removes rust, mud stains, and scum from waterlines and boot stripes. Cleans and brightens stainless steel, bronze, aluminum, copper and chrome.

This product can also be used to safely remove tough surface stains from your existing PoliGlow finish. Simply follow up with a coat or two of PoliGlow over the affected area to restore that like-wet shine!

MyBoatStore recommends using this product prior to applying the PoliGlow system on metalic flake and darker colors!

Your best choice for cleaning those stained or troubled areas prior to the application of your "PoliGlow" finish!