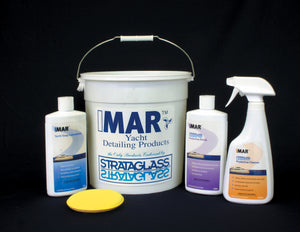 The only Care System Products endorsed by Strataglass, the premiere manufacturer of clear plastics.
The IMAR Strataglass™ Bucket includes the following 16 ounce bottles inside a 2 ½ gallon bucket with a sponge:

    Strataglass™ Protective Cleaner #301
    Strataglass™ Protective Polish #302
    Yacht Soap Concentrate #401
Imar #301 is uniquely formulated to clean, shine and protect Strataglass and its unique scratch resistance protective coating.  This helps defeat the common problem of age induced brittleness and promotes continued flexibility. Strataglass Protective Cleaner is safe for daily use and is recommended to be used often to properly maintain the famous clarity of Strataglass.  (Can be used daily between applications of IMAR #302)
IMAR Strataglass Protective Polish # 302 is formulated to safely clean, polish, and protect Strataglass and the Strataglass protective coating.  A molecular bonding creates a nearly invincible protective barrier against the damaging effects of marine environment pollutants.
IMAR Yacht Soap Concentrate #401 is formulated with a unique blend of surfactants to create its highly polished appearance. Its non-streaking, non-spotting formulation rinses clear and decreases drying time. IMAR Yacht Soap Concentrate avoids the use of harsh alkalies, acids and abrasives so it protects durable polishes while thoroughly cleaning.
Makes a great gift!