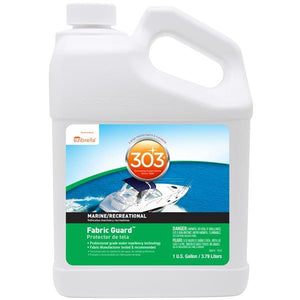 Powerful enough to protect fabrics in the harshest environment ...outdoors. Yet 303 High Tech Fabric Guard is safe for the finest fabrics, wool, silk, and fine leathers - including natural suede.

On outdoor fabrics, 303 High Tech Fabric Guard restores lost water repellency and stain repellency to factory new levels. 303 High Tech Fabric Guard resists soiling, impedes mildew formation and helps protect against the sun's harmful UV rays.

Can be applied using trigger sprayer, pump sprayer, or professional spraying equipment. The 1 gallon refill bottle will treat and protect approx 250 square feet of typical fabric with 2 light coats. (The MyBoatStore Recommendation).