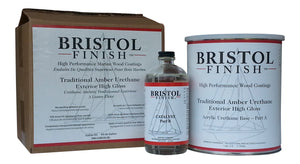 Bristol Finish Traditional Amber System
The Traditional Amber Resin and catalyst are the foundation of this premium wood coating system.
Surface Coverage by kit size:
1 quart applying 6 coats will yield 35 square feet of coverage
1 gallon applying 6 coats will yield 130 square feet of coverage
This kit contains 32 oz (946 ml) Urethane Resin and 4 oz (118 ml) Catalyst.
Several additives/components are available that are designed to enhance the mixture to best suit assorted climatic and environmental conditions making it easier to achieve the best results possible.
The following is a listing of the respective components and their uses:
Traditional Amber Base Resin kit: (Quarts or Gallons) Can be used as a stand alone application in most cases, however under certain conditions better results are achievable using the appropriate additive/components. The Traditional Amber Kit is made up of a quart or gallon of resin and the corresponding amount of catalyst.
Additives/Components:
Bristol Finish Thinner (32oz)
For those circumstances when thinning your mixture is beneficial, we have the Bristol Finish Thinner. Specifically formulated for the Traditional Amber Resin, it is also a good solvent for cleaning slips of the brush, spills, and for cleaning brushes.
Tropical Reducer (32oz)
When the temperature rises above 90°F/32°C and the humidity is high, the Tropical Reducer helps slow down the curing reaction giving you a longer pot life, hence more working time.
Accelerator (2oz)
In cold conditions from 55°F/13°C to 45°F/7°C the Traditional Amber Resin takes more time to cure. To counter this we have the Accelerator which can be used to speed up the cure time.
Satin Additive (8oz)
Use for reducing the natural gloss to a satin tint of choice.