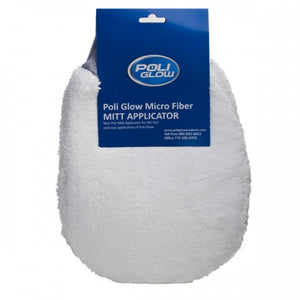 The Poli Mitt was introduced to rave reviews in late 2013 after being thoroughly vetted by hundreds of professional detailers.  Compared to the previous applicator it holds more poliglow, is easier to work with than the applicator it replaces and makes application quicker!  This applicator also has replaced the previous version that was included in the Complete Poli-Glow Kits!

Preparation of Poli-Mitt:
Dampen Poli-Mitt with fresh water, wring out, wrap in towel and wring out remaining moisture.

During application, Poli-Mitt may have to be rinsed out from time-to-time.

Repeat initial process and resume application. Poli-Mitt should be damp not wet.

Always wear a rubber or plastic disposable glove under Poli-Mitt.
Application of Poli Glow:
Drizzle several lines of Poli Glow onto palm of mitt. Mitt should be moist, not dripping wet.

Apply Poli Glow by wiping in one direction (similar to painting varnish) top to bottom or side to side.

Do not wipe in circular motion.

Do a 4'x 6' area at a time.

Each coat dries in approximately 1-2 minutes (depending on temperature).

Apply 4 to 6 coats of Poli Glow and move on to the next section.
Introducing the New "Mitt" Applicator
"Not only can we make our old fiberglass shine like new, we can now apply it easier, with less effort, and in about half the time thanks to the "MITT"..."
Sometime during 2013 thoughts turned towards the idea of a new applicator that would further improve the results achieved by the formed 7" chamois type Poli Glow Applicator
(already the industries' best)
.  The goal became to produce an applicator that would be easier to handle than the previous design, it had to negotiate curves surfaces easily, hold at least twice the amount of Poli Glow, minimize the potential for overlaps and brush strokes, and not need to be set down every time there was a run or imperfection while applying.
Prototypes were created and these MITT's were put in the hands of over 100 professional detailers for a thorough vetting.  Results came in, and were striking...
More than 95% preferred the new "MITT"
In Summary, this new "MITT" applicator:
Is easier to use

Holds more Poli Glow

Navigates curved and flat surfaces with ease

Further reduces the chances of overlap marks and runs

Reduces the strain on the wrists during application

The back side is available for wiping inadvertent runs or sags

Is recommended by over 95% of the detailers involved!